Company Culture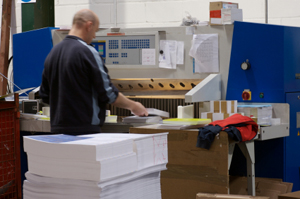 Budget Printing is a full service commercial printer that has provided quality pre-press and printing to the Waco, Central and North Texas market for over 25 years to a variety of accounts both large and small. Budget Printing was founded by Jose and Sara Ortiz in 1992 and has been under its current ownership (Sara Ortiz and Patty Short) for 8 years. Mark Short is our plant manager and brings over 30 years of experience in producing quality printing and exceeding customer expectations.
We offer commercial printing services ranging from layout and design to full-color brochures and booklets. We also offer high-speed digital color printing and complete bindery services that include collating, stitching, folding and laminating.
Budget Printing has expanded its services throughout the United States and is currently shipping to all fifty states and internationally. We have also worked with many of our clients to translate printed materials to other languages.
Budget Printing has a history of providing advanced technology in on line ordering and customized web sites that are fully able to meet and exceed the expectations of our clients. Our system is a user-friendly online print ordering system which enables end users to order stationery and collateral materials from any computer.
Budget Printing's online ordering system offers full e-commerce capability, provides unlimited templates for variable data documents and generates real time proofs, which has proven to save our clients time and money.
For more information call Mark or Patty Short at 761-9900. Our office hours are 8-5 Monday – Friday.